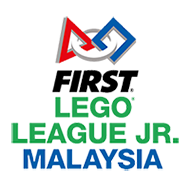 What is FIRST® LEGO® LEAGUE Jr.?
Guided by adult Coaches and FIRST® LEGO® LEAGUE Jr. Core Values, students work with LEGO® elements and motorized parts to build ideas and concepts and present them for review.
The program focuses on building interest in science, technology, engineering, and math (STEM) through a real-world challenge – to be solved by research, critical thinking, and imagination.